We are delighted to announce the completion of the monumental family history of the McKenzie family of Sunnyside in Stroud (shown below in a family photograph taken about 1912) and Maitland, New South Wales for Diana McKenzie of Sydney.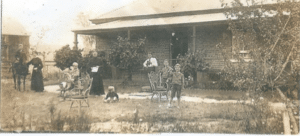 The history of this family in Australia began with the arrival of two Alexanders – one MacKenzie, Diana's great-grandfather, (shown on the left) and one McDonald – both from Ferintosh in Scotland and both with ties to the Australian Agricultural Company and its activities. Their lives became entwined as their children and grandchildren intermarried. Alexander MacKenzie's seven sons married into the Hough, McKenzie (another line), Vaux and Bowden families and, in the following generations, became connected to many more families.
The McKenzies of Diana's line were joined by the Bowden family of Stroud, whose ancestry has been traced back to the early 1700s in Kent, through the marriage of Sophie Bowden to one of those sons, John Andrew McKenzie, 'the Father of Stroud' and the Australian Agricultural Company's agent who was responsible for the selling off of the Gloucester Estate and, indeed, the creation of Gloucester itself. Sophie Bowden and John Andrew McKenzie are shown below.

The early Bowdens had marital links to the Wattus, Morris, McMullen, Gilbert, Howlett, Nix, Smith and Ferguson families.
Sophie Bowden was one of 15 children whose siblings married into the Nix, Farley, Barnes, Valentine, O'Keefe, Bate, Daunt and Davis families of the district. Sophie and John Andrew McKenzie had nine children, one of whom, Wallace, was father to Diana McKenzie. The McKenzie children married into the Grant, McDonald, Callow, Beck, Jakeman, Loram, Stewart and Williams families.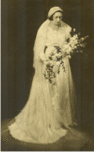 Diana McKenzie's mother was a Stewart of the Symington line and part of the family can be traced back to the late 1500s in Carmichael, Lanarkshire, Scotland. A Grizel Symington married a Robert Stewart in 1844 and their son, Andrew Carmichael Stewart moved to Australia, married Louisa Eliza Underwood and brought that family into the McKenzie story. They were Diana McKenzie's grandparents on her mother's side through their daughter, Jean Symington Stewart. Jean Symington Stewart is shown on the right in picture taken on her wedding day.
The Underwood family has been traced back to the 1600s and links the Hooker, Shaxted and Lambert families to their line.
The extended family contributed to the development of many places from Charters Towers in Queensland, to agricultural companies in Victoria and South Australia. Some notable members were Donald McKenzie, an uncle to Diana McKenzie, who won the Military Cross in World War One. His Citation is shown below together with an image of the medal awarded.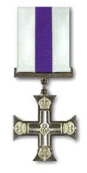 'This officer came to France with the Battalion and has been through all its actions. As a platoon commander he displayed the greatest devotion to duty and tireless energy. During the operations on the Somme commencing 8th August, 1918, he commanded a company with conspicuous success and was twice recommended for an immediate award by his commanding officer. His cheerful disregard of difficulties and danger inspired his men and at all times he got the very best out of them.'
Another uncle, Bruce McKenzie, died on the Western Front in the war.

T Ross McKenzie, another uncle, earned an OBE for his services to Education. The image of him in his academic gown, has been supplied by Julie Mason, Heritage Centre and Records Manager of Knox Grammar School and her assistance was greatly appreciated.
Their brother-in-law, Alec McDonald, was an Alderman in Maitland for 36 years and Mayor of West Maitland/Maitland for a total of 19 terms. In many, varied ways, the family both contributed to, and had an impact on, society.
Unless otherwise noted, the photographs used in this page are from the family archives.
Enquiries about any of these families can be made through this website or direct to Jan Brady at janbrady@3.25.109.202.